Step by step instructions to make a parameter inquiry
A parameter question is one of the least difficult and most valuable propelled inquiries you can make. It enables you to make an inquiry that can be refreshed effortlessly to mirror another hunt term.
When you open a parameter question, Access will provoke you for a hunt term and afterward demonstrate you inquiry comes about that mirror your pursuit.
When you're running parameter inquiries, look terms go about as factor criteria, which are inquiry criteria that change each time you run the question.
We could make a parameter question with variable criteria in the Date field. Along these lines, each time we run the question an exchange box will show up inciting us to enter the date we need our inquiry to scan for.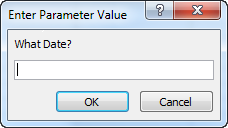 We'll enter the date we need, at that point Access will run the question utilizing the date we entered as an inquiry term.
To create and run a parameter query:
Make a question as you typically would, changing the table joins if vital, choosing the fields to incorporate into your inquiry, and adding any nonvariable criteria to the fitting fields in the Criteria: push.
Find the field or fields where you need the variable criteria to show up, and put your cursor in the Criteria: push.
Sort the expression you need to show up in the provoke that will fly up each time you run your question. Make a point to encase the expression in sections [ ].
On the Query Design tab, tap the Run order to run your question. An exchange box will show up with the incite you indicated. Enter your inquiry term, at that point click OK to see your question comes about.
For More Recommended Articles Visit : Office.com/setup